Hari ni hari
gelak sedunia.
. Tapi bagus la.
.awet muda.
. Hadoii.. Ni gelakkan kawan aku rasa nak pengsan derrr... Boleh pulak kawan aku mimpi kawen , dah tu cincin pearl punya sebesar tapak tangan. Mende nyer tu.. Ha ha ha ha... Yang sorang lagi asyik nak serang aku. Ada ka patut dia yang gelak kat ofis, aku pulak yang kene. wkakwkawkak...
Buat pengetahuan korang, kan ada food festival kat MBKS, Kuching... So, bukan tak berkesempatan.. tp malas... Malam tadi aku pergi la ajak kawan aku pergi.. Nak tengok jugak ape bende derang jual.. Mak aiii punya ramai orang..... Parking tok sah cakap.. TP kannn malam tadi punya la bernasib baik.... masuk zup zup, ade parking... eee nasib baik.. Ha ha ha.. tp kene jalan kaki la.. Takkan nak park depan2 tu kan, alamat nya xmasuk kat sana la..
Jalan punya jalan... Ada satu gerai ni, MAK AIIIIIII punya la panjang barisan. malas amik gambar.. hp low bat. eeee.. amik gambar sendiri jer sempat memandangkan ada tempat cute jer tuk amik gambar. ahhaha
Hambek kau model of the year kat food festival.. Aku mengidam lagi sausage taiwan tu. wkakwkakwka.. sedap. nyum2.. Sedap laaaaaaaaaa....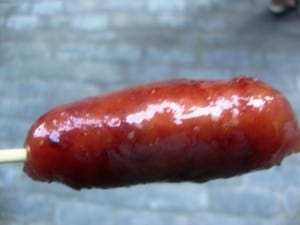 thanks to Google for the picture. huhu..
Gelojoh makan, mana nak nampak menatang ni... Tak boleh makan banyak...Malam tadi makan secucuk.. Malam ni boleh secucuk lagi. Ha ha ha ha.